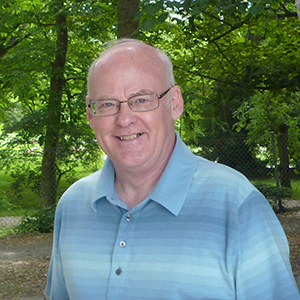 Jeff Jeffries devotes a chapter to the topic of geopathic stress in his book 'It's a Whole New World!'
Jeff developed his method of neutralising geopathic stress to give his clients a better chance of responding to his healing treatments in those cases where they were exposed to the harmful rays. Many of his cases therefore involve houses which have been neutralised, but where the owner was also given natural healing at the same time. The most interesting cases from a geopathic stress perspective however are those that did not actually involve healing or where the person affected was not aware that their house had been treated.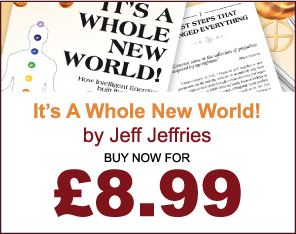 Several clients have told me how visitors can somehow pick up on how the rooms feel lighter after a clearance. A few have said how plants also perk up once the geopathic stress has been cleared and some houses that had been on the market for some time suddenly sell.
One client told me that glassware in a cabinet seemed suddenly brighter and another in Belgium who was an audio hifi buff said that the sound from his top quality equipment had was so much more natural.
Clearly our body energies and those interactive energies that are all around us are part of how we use our senses – the 'fog' of geopathic stress impairs this ability.
A client who had a clearance came back to say that the bottom of the garden still felt bad; we soon realised this was emanating from the garden of her rear neighbour which was affected by the remainder of the stress line that continued across her neighbour's land although her own was now clear. I did an extra clearance for her covering a couple of metres of the neighbouring property.
She told me she then had felt a change in the energy of the garden; it felt lighter and looked brighter – more peaceful and inviting. She didn't feel the level of anxiety when in her back rooms and found herself realising that she now felt 'ok and not unsettled as before'!
A Korean client contacted me from New York to arrange a clearance; three weeks later he emailed me full of praise for what he called my 'magical treatment'. He and his wife were sleeping so much better, pains in their backs had 'gotten better'. They felt less pain much rested and refreshed after waking up in the morning.
He then ordered a clearance for a friend who later reported "This is just amazing. I can't even imagine how this could be possible for someone who is in England to cure my place in NY just like that as if by magic. I fall asleep fast. I don't get headaches. I don't get muscle spasms not once after Mr. Jeffries cleared and cured my place".
Still impressed my New York client ordered yet another clearing for another friend who told me "After the first day, can't pinpoint what it was but something was different, the whole house felt cozier and 'more homey'; a big change. I fall asleep very quickly and sleep soundly through the night as well as my wife. She used to get up 2 to 4 times every night but she only got up once and told me that she feels much better and that the sleep was delicious".
"We cannot thank you enough for what you have done for us. You gave us sleep, a restful sleep with health benefits. You are The Best Jeff !!!"
A keen athlete got in touch to say that she was struggling badly with her long distance running due to weakness and breathing ies – as she said "I started suddenly in April 2004 with the problem; one week I was running well, the next it was like the handbrake had been slammed on tight and I was gasping awfully!"
She was only alerted to the idea of geopathic stress 9 years later in 2013 immediately I cleared the house she told me:
"I went for a walk on Tuesday and about 10 minutes in I had the great urge to run – when I read your message later in the afternoon I wondered if the treatment was roundabout that time. I felt weird!" Then:
"Ran on Weds night, first run since you had cleared the house and what a difference – same run as last Weds yet nearly 18 minutes quicker and conditions were worse!! (wet, muddy and windy). The main difference with the house is that it feels calm – for want of a better phrase, less hostile – does that make sense?" 
In September, three months after the clearance and following a series of training reports to me showing steady progress with her health and stamina I was delighted to receive a message from her saying: "I did a 19 mile fell event on the 21st  Sept with my running friend Peter and we knocked nearly half an hour off last year's time – wonderful day!!"